This Morning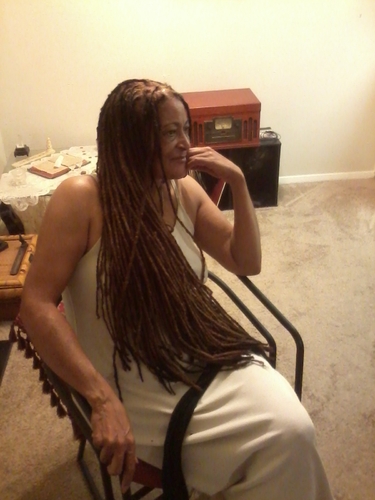 Posted By: Michelle Diane on November 06, 2009

Trust in me with all your heart and lean not to your own understanding. In all your ways acknowledge me and I will direct your paths.

Ladies, let me ask you something straight up. When you love a man, really love a man, ainít that the way you love him? Donít you bypass, ignore, whatever it takes to overcome your fear and invest your hope/trust in him? Donít you adapt yourself confidently to his lead? I love like that; itís all about that man. Submission isnít a concept requiring definition or negotiation; it is the desire and good pleasure of my heart. Yours? I know yaíll know what Iím talking about; you be walking around on clouds humming love songs in your head and canít nobody wipe that silly grin off your face.

Well, after loving another some man like that and enduring a brand new manifestation of the same old destructive dysfunction, I did what any well churched independent sista would do. I crawled way deep up in my Bible. Ainít it funny how fast we run to God when ainít nothing else working? Iím just asking you, because the Spirit keeps asking me. Anyway, I donít know about you, but I use the Word as much as a cave as I do a sword and I was looking for a place to hide and lick my wounds.

Then a few weeks back I started hearing love songs in my head. One refrain in particular, ďI could love you like that, give you the world. Move heaven and earth if you were my girlĒ, wouldnít go away. Anybody know the tune Iím talking about? Please tell me what it is; itís all I heard/hear and it brings tears to my eyes. Anyway, when the love songs started, I assumed it was abused woman syndrome and I was pining for the husband who played Marine Psych Ops games with my head for 6 years and then summarily abandoned me.





Iíve been there done that, too many times, and I thought I knew the love songs were the manifestation of my longing for the familiar Ė pain, rage, chaos and all. I want you to know I used my tools and fought valiantly to chase the love songs and their perceived implications from my head and heart. They wouldnít go away, especially that one (somebody pleeeeease tell me what it is), they just got louder and a lot more persistent.

Iím telling yaíll I know when to holla help; this time it came in heaping servings of Creflo Dollar and Steve Harvey combined with a slow steady drip of Iyanla Vanzant and I realized the voice I heard singing wasnít my own. It wasnít my fear or my pain; it wasnít my loneliness or a covert attempt at emotional ****. I noticed the stillness where throbbing had been and realized it wasnít me. Then my girl Natasha insisted I read The Shack Ė Iím telling yaíll its leaven Ė and I realized I knew the voice. I realized every time Iíve set up another some man to disappoint me, **** me and break my heart, I run bleeding and broken back to the same man. I do it because heís safe; heís always there. He loves, protects and nurses me back to strength; he never judges or protests when I go gallivanting off for another ring around the mountain.

Did yaíll get that Jesus is a man? I didnít. Well I did on an ethereal level, but a sing me to sleep, whisper ďtrust meĒ in my ear man? Hosea and Gomer came to heart and mind. And nope, I really didnít understand. Want you to know, this morning, Iím just so grateful for the wonder of it all. An exceedingly patient man reminded me that through the storm, through the night love stands steadfastly by, that without judgment or expectation love simply and unceasingly loves you. I just stopped by to remind you.
If you enjoyed this article, Join HBCU CONNECT today for similar content and opportunities via email!