Inspirational News Highlights 8/29/09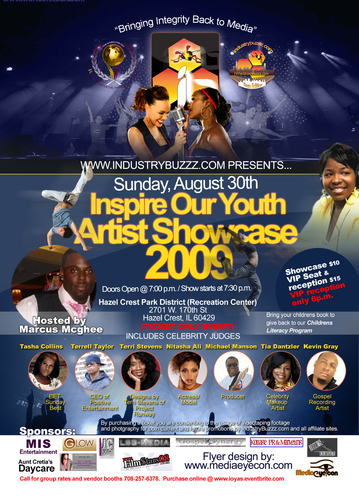 Posted By: Lutonya Lang on August 29, 2009

Wow I got the designer pieces today from Terri Stevens they are amazing. Looking for 3 models that will be honored to walk the walk in designer pieces by Terri Stevens of Project Runway.

Must sign up to www.IndustryBuzzz.com to be a Model. YES great opportunity. Some requirements apply! Click IOYAS Model to win a slot to walk the IB Runway!

Getting ready right now for the picnic it is now 2:46 am just came in from promoting the Inspire Our Youth Artist Showcase. One event to the next then radio station and more.

Thank you to everyone that has supported us by posting it on twitter, myspace, facebook, have the promotional flyer as your profile picture and on your website. Everyone this is overwhelming and amazing that you care about the youth and young adults.

Had my running shoes on today getting some traction in.

Update we will head out on today to the Albertina Walker "The Queen Of Gospel" 80th Birthday Party are you going. It will be so nice. Yolanda Adams, Lady Tramaine Hawkins, The Caravans and so many other elite guest will be in the building. Saturday, August 29, 2009 @ 6:30 pm for more you know where to go www.IndustryBuzzz.com all Inspirational News is highlighted there.





Ticket Only Event Make Sure You Get Your Ticket this Week! If you cannot make it we invite you to donate a ticket to a well deserving student that cannot afford the ticket.

Purchase Online: http://www.ioyas.eventbrite.com

VIP Reception & Showcase $15.00
Showcase Only $ 10.00

Ticket Location Pick UP!!

Unforgettable Cafe
16109 S. Park Ave.
South Holland, IL
Tuesday-Sunday
7:00am-3:00pm
_______________________________
Comfort Inn Suites
16900 S. Halsted
Harvey, IL
Wednesday: 7:00 pm-8:00pm
Sunday: 11:00 am-1:00 pm

Group Rates & Vendor Slots Available Call Us Today!!!!
(708) 257-6378

If you are looking to sow into a child life click below.
http://www.industrybuzzz.com/page/ib-youth...

Alright Movers & Shakers this group will upgrade and become more interactive. You know I love connecting with you and finding out what is the latest in Inspirational News
This is the link for our new supporters page so that we can connect more to you click here

http://www.facebook.com/pages/Industry-Buz...

More Great Updates to come!!!!! Keep It lock on your Inspirational Media Outlet "Bringing Integrity Back To Media!"
If you enjoyed this article, Join HBCU CONNECT today for similar content and opportunities via email!