Johnie Jones Receives Humanitarian Award and Bachelors Degree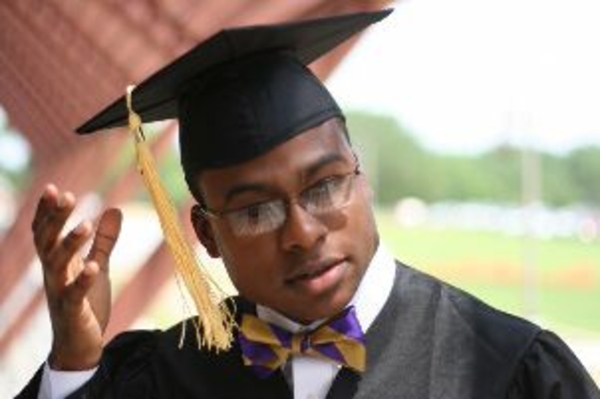 Posted By: Frederick Roberts on May 27, 2009

When Johnie L. Jones, III was growing up in Hope, Arkansas, the community knew he was destined to be a star. Well, now everybody knows because Johnie recently added two stars to his crown, having been awarded the 2009 Humanitarian Award and the Bachelors degree in Agricultural Economics with honors from Prairie View A&M University (PVMAU) in Texas on May 16.

Johnie is the son of Bishop Johnie L. Jones, II and Minister Juanita Jones-Jackson. From his early beginnings you can say he took a page from his grandmother's book when it comes to leadership and service. Mrs. Catherine Thomas who served as Mayor of Tollette, Arkansas was a great influence on Johnie. Jones ran for a position for the Prairie View City Council in 2007 and narrowly lost in highly contested race.

Throughout his tenure at Prairie View A&M University, Johnie served the university community in many roles, including President and Vice President of the Student Government Association (SGA), and Vice President for Finance and Administration. Under his leadership of Student Government, Jones tirelessly helped to increase voter awareness and voter participation among the PVAMU students and the community through special rallies, town hall meetings and marches. While serving as the SGA President, Jones worked as an advocate, gaining access for improved student services, campus development, safety and security. His diligent leadership laid the foundation for the University's "Go Green" initiative to be implemented this summer along with SIFE.

Jones' influence extended beyond the university when PVAMU President George C. Wright invited him to speak before the Texas State Legislature's Subcommittee on Finance to inform them about the importance of supporting the university and the students. As the SGA president he was appointed to The Texas A&M University System Chancellor's Student Advisory Board, which provides an avenue for student leaders to address common concerns of the students at the system's nine universities. Jones also served on the Chancellor's Diversity Council and was a candidate for the student regent's position, a non-voting member of the system's Board of Regents. Additionally, Jones' administration facilitated online SGA elections, which resulted in a ten percent increase in student voter participation this past spring.

Johnie was involved in campus activities from his freshman year having been elected Mr.





University College and Freshman Senator for SGA. He served as president of the Students In Free Enterprise (SIFE) Team, which teaches students about financial literacy, business ethics, entrepreneurship and environmental sustainability. Additionally, Jones holds membership in the Alpha Phi Alpha Fraternity, Inc., Eta Gamma Chapter, was a treasurer and founding member of the Frederick Douglass Leadership Institute, Chaplain for the PVAMU Chapter of the NAACP, a member of MANNRS and a Career Services Ambassador. Johnie is a dedicated volunteer for the PVAMU Panthers-At-Work (PAW) Community-Wide Cleanup Project. In between classes, Jones took time to mentor students at Hempstead Elementary.

In addition to his academic studies, community service and leadership involvement, Jones participated in several summer internships - George Washington Carver Research Program, Department of Agriculture Economics at the Iowa State University (2006); Monsanto Company in Ottawa, Illinois (2007) and the United States Department of Agriculture in Washington, D.C. (2008). Each program provided him the opportunity to conduct research, enhance his leadership and communications skills and to further his career in public service. He also served as an ambassador and for the Thurgood Marshall Scholarship Fund and a student assistant in the Career Outreach and Services department at PVAMU.

In the Arkansas community, Johnie finds time during his home visits to volunteer for activities with Providence Baptist Church in Hope, to help provide food and clothing to the area's needy families.

In June 2009, Jones will participate in a mission trip to Burundi, Africa with the Community of Faith Church of Hockley, Texas. This humanitarian trip will help the country decrease the mortality rate and increase the life expectancy of its citizens.

You may ask 'what's in the future for this son of Hope?" In September 2009, Johnie will attend the Lyndon Baines Johnson School of Public Affairs at the University of Texas in Austin to pursue the Masters of Public Affairs with an assistantship in the Office of the Vice President for Diversity and Community Engagement. Additionally, Texas' Governor Rick Perry, Jones' commencement speaker was so impressed with Jones leadership and involvement that he offered him a position in his office. Jones plans to earn a Ph.D. and Law Degree and become a public servant.

Copyrighted 2009 UNITAN Communications
If you enjoyed this article, Join HBCU CONNECT today for similar content and opportunities via email!
Latest Profiles In Leadership
Popular Profiles In Leadership